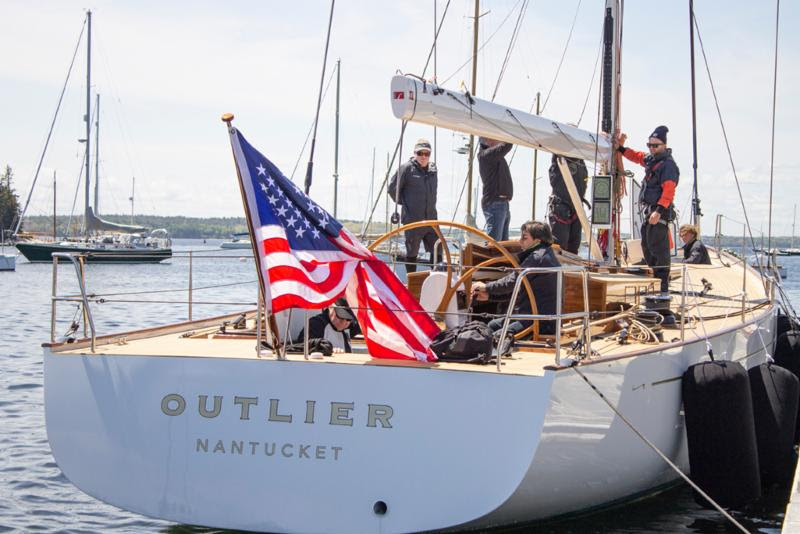 Brooklin Boat Yard launched OUTLIER, a 55-foot sloop designed by Botin Partners of Spain, on June 5 after a 10-month build in Brooklin, Maine. The cold-molded custom yacht is a spirit of tradition racer and daysailer. While she has a modern underbody with a deep, fixed-bulb keel, OUTLIER's aesthetic above the waterline is decidedly traditional with a roomy cockpit, closed transom, and classic housetop.
OUTLIER's owner intends to race the boat in East Coast and Caribbean regattas beginning this summer. The Botin 55 has a lightweight cold-molded wood hull and deck. Built with a carbon-reinforced keel structure to support the deep fin and lead bulb. Since OUTLIER's owner doesn't intend to taker her offshore for extended cruises, the interior is clean, classic, and simple.
The lightweight interior is built with paneled vertical grain white oak and an English brown oak cabin sole and finished in satin sheen varnish with white painted deck frames for accent. There is a spacious main salon amidships, which connects with a simple galley and well-equipped navigation station. A quarter berth aft offers sleeping accommodations while underway, and a forward cabin has four bunks for crew plus a full head.
"OUTLIER is an incredible marriage of modern engineering and traditional styling," said Steve White, president of Brooklin Boat Yard. "She exemplifies the continuing evolution of the spirit of tradition class. She'll perform well on the racing circuit while carrying on the classic aesthetic for which wooden boats are well known."
OUTLIER will call Nantucket her homeport. Her upcoming racing schedule includes the weekly local races in Nantucket, The Castine Classic, Camden to Brooklin Classic, Eggemoggin Reach Regatta, Nantucket Sailing Week, Opera House Cup, and others. More information about OUTLIER is available on Brooklin Boat Yard's website at brooklinboatyard.com.