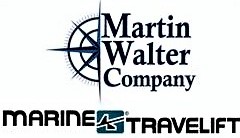 For over 39 years Martin Walter Company has been the exclusive provider in New England for Marine Travelift. We sell and service their mobile boat hoists, marine negative forklifts (that can handle tidal changes in Maine) and self-propelled yard trailers called Transporters. We have over 40 yards and marinas using our Hoists in Maine, some dating back over 38 years.
Marine Travelift is the number one provider of marine mobility systems in the world and has the proven lowest cost of ownership in the industry. We also market used machines as they become available.
Our preventative maintenance program starts off with our 100-point safety and operational inspection. The results provide the yard with the guide needed to address the areas that require attention on your hoist. We offer the only factory certified Marine Travelift service available, with the common goal being to keep this key piece of equipment up and running.
Call us for any needs you may have in this area at 781-878-1216.
Our sister company, Walter Tool, is a provider of FEIN Sanders, Vacuums and other power tools and accessories. Log on to www.waltertool.com or call the office to order FEIN products.

Martin Walter Company
41R Washington Street
Norwell , MA 02061
Contact: Jack Anderson
781 878 1216
[email protected]
www.walterco.com