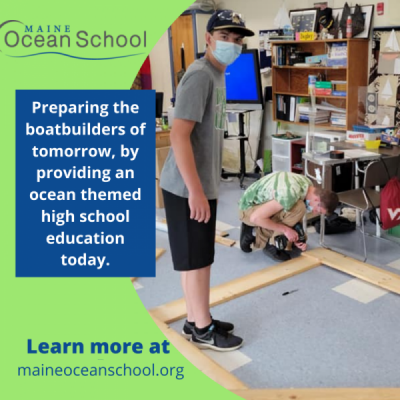 Maine Ocean School Recruiting High School Students and Engaging in Citizen Science
Maine Ocean School is pleased to announce their involvement in a citizen scientist project beginning this academic year, which will explore the dynamics of the Penobscot River Estuary. Funded by the National Science Foundation, students will contribute to the research conducted by Lauren Ross, an assistant professor of hydraulics and water resources at the University of Maine.
The Maine Ocean School is a public magnet high school, which incorporates an ocean themed curriculum to provide students with the skills needed for jobs in Maine and on the ocean. In addition, 11th and 12th grade students have the option to pursue more specialized courses and training in the fields of marine science, transportation, engineering, and management. Given the school's status as a magnet school, all residents of Maine may attend free of charge, either in person or virtually. Applications for the upcoming school year can be found at
maineoceanschool.org
and will be accepted until October 1st.
"Maine Ocean School has provided me with an individualized curriculum, one on one support, a family-like atmosphere, and has helped improve my confidence as a learner. I would highly recommend this high school to anyone interested in the ocean." Hannah Mellor, Maine Ocean School Senior.
In the Penobscot River Estuary Project, students will learn how to support the research with hands-on collection of data from 12 spots along the estuary during this 5-year study. Upon further analysis the students' data will help quantify the mixing process of salt and fresh water in estuaries around the world. At the conclusion of this study, students will understand the differences among estuaries, be able to explain simple tidal and volume conservation theory, as well as utilize data visualization tools.
"This is one of the many wonderful examples of how we incorporate real-world learning at Maine Ocean School. In addition to providing students with employable skills, we value opportunities like that as it encourages students to contribute to the broader ocean community." Kylie Bragdon, Executive Director Maine Ocean School.